It's that time again! I'm sure by now you've come across at least one 'end of year' list by now and so what's the harm in reading one more right?
In case you haven't noticed, this year has been incredible for music. Some of the finest debuts dropped in 2017 and bands that were once languishing in obscurity rose like a phoenix with some of their best work in years.
My favourite album of 2016 (
Simple Forms
by The Naked and Famous) was easy to choose. It not only instantly grabbed my attention but also continues to hold it to this year. They're a great band and I urge you all to check that album out. As for 2017, it's been a lot harder. I had a consistent top five and outside of #1, ranking the rest was damn hard. The records outside of the five are no chumps either though. All in all in my opinion it's a great list and looking back perfectly soundtracks my 2017.
Disclaimer - this is of course my opinion and does not mean it's right (it does). Lets go!
20. Feist - Pleasure
Sounds like - that one girl in the club that doesn't need your shit.
Smells like - a freshly baked butterscotch muffin, presented on a silver tray and handed to you by a kitten.
Fun fact - Jarvis Cocker has a guest appearance on "Century".
19. Incubus - 8
Perfect playlist for - cold November mornings when your body has all the energy and oomph of a deflated bean bag.
Goes well with - a glass (pint) of pinot.
Fun fact - Skrillex co produced and mixed most of the album.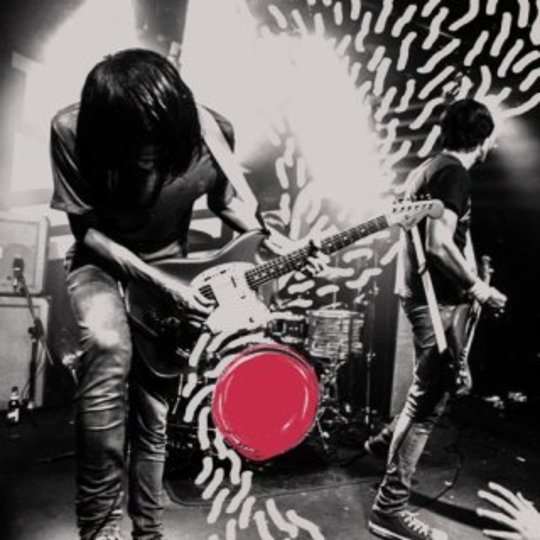 18. The Cribs - 24-7 Rock Star Shit
Sounds like - The Arctic Monkeys if they weren't so far up their own arse, or a male equivalent of Haim if they were from Yorkshire.
Hot snack of choice - Betty's hot pot.
Fun fact - All three members are brothers and two are twins. Worth knowing for a music pub quiz.
17. Una Healy - The Waiting Game
Sounds like - the early to mid 2000's when catchy pop rock was the soundtrack to our lives.
Amount of people I know called Una - None.
Fun fact - Una Healy began her career as a singer in girl band The Saturdays!
16. Nothing But Thieves - Broken Machine
Appeals to - people that need a new favourite band that kicks out at the world but is also not complete horse shit like post 2010 Green Day.
Lead singer looks like - a cross between all members of East 17.
Fun fact - Was somehow denied top spot in the UK charts by The National's Sleep Well Beast back in September.
15. Lindsey Buckingham and Christine McVie - Buckingham/McVie
Proof that - you can still make great music when you're pushing 70.
Perfect as - a Christmas gift for yer auld da since he loves the oldies and says new music is 'not what it used to be'.
Fun fact - Stevie Nicks is the only member of Fleetwood Mac that doesn't feature on the album.
14. AFI - AFI (The Blood Album)
For fans of - "Girl's Not Grey" era AFI.
Feels like - your girlfriend breaking up with you every day for the next three months.
Fun fact - The album release includes four limited vinyl colour variants matching the four blood types A, O, B and AB.
13. Haim - Something To Tell You
Sounds like - the undeniable sass generated from watching Mean Girls on a constant 24 hour loop.
Times I've watched the video for "Want You Back" - too many.
Fun fact - Aside from the three members being sisters, the drummer's surname is Batmanglij.
12. The Killers - Wonderful Wonderful
For fans that - miss the personality that Sam's Town had which has been lacking in their releases since.
Perfect soundtrack for - Wearing your favourite gold tuxedo and winning a cool $14.26 on the fruit machines in a casino on the cheaper end of the Vegas strip.
Fun fact - went straight to #1 on the UK charts and as a result made The Killers the first international band to chart their first five albums at top spot.
11. K.Flay - Every Where Is Some Where
Feels like - a viewing of Fear And Loathing In Las Vegas under the influence of LSD.
Perfect if - your life is a train wreck but you don't really care.
Fun Fact - "Blood In The Cut" featured in season 4 of Bojack Horseman.
10. Aquilo - Silhouettes
Tastes like - a Starburst pack that is full to the brim with the red flavour ones.
Your completely heartless if - the video for "You Won't Know Where You Stand" doesn't completely kill you inside.
Fun fact - in Roman mythology, 'aquilo' was used to describe the north or north-east wind.
9. Glassjaw - Material Control
For fans of - Glassjaw! Who else honestly sounds like this?
Feels like - the urgency of needing a piss just as the band you're watching are about to play the three songs you most know the lyrics to.
Fun fact - Glassjaw's first full length album since 2002! We've missed you guys.
8. Sundara Karma - Youth Is Ever Only In Retrospect
Perfect for - going out for Friday night drinks, in 1982. For people that like music similar to The 1975 but think (quite rightly) that Matt Healy is a cock.
How - the hell do bands make debut albums this damn good?
Fun fact - the band's name is derived from Sanskrit for 'beautiful karma'.
7. Linkin Park - One More Light
(Just putting this out now, the video for "One More Light" is one of the saddest things I've ever seen. R.I.P Chester)
For fans of - Linkin Park but also capable of accepting a band doesn't have to keep making the same album over and over and over.
Perfect soundtrack for - thinking about Chester Bennington and having a good cry.
Fun fact - reached #43 in the Greek music charts. Imagine what the other 42 albums could possibly have been.
6. SAINTE - Smile, and Wave
Smells like - a diabetes-inducing amount of sugar.
Perfect if - you're one of those people that doesn't let anything get you down, or you need an album to bring you back up.
Fun fact - SAINTE singer Taylor Jardine is also the singer for pop punk band We Are The In Crowd. I've also had a massive crush on her for years but don't tell anyone that.
5. Michelle Branch - Hopeless Romantic
For fans of - people that remember when Michelle Branch was the queen of country/rock/pop in the early 2000's.
Sounds like - the satisfaction of one of your favourite female vocalists living her best life and releasing her best work.
Fun fact - first full length since 2003!
4. Liam Gallagher - As You Were
Sounds like - the satisfaction of our kid finally releasing decent music post-Oasis.
Perfect soundtrack for - A few afternoon drinks in the sunshiiiiiine.
Fun fact - a special box set version of the album was released with among other things, a print by Klaus Voormann, the man behind the art for The Beatles'
Revolver.
3. Deaf Havana - All These Countless Nights
Perfect soundtrack for - being both drunk and lonely.
Sounds like - both the happiest and saddest times of your life.
Fun fact - Deaf Havana's first ever single released in 2009 is called "Oh Howard, You Crack Me Up" which honestly cracks ME up.
2. Lorde - Melodrama
Sounds like - a teenager singing about experiences she should have no earthly knowledge of, but manages to describe it better than anyone else twice her age could even imagine.
Feels like - a drunken taxi ride with three complete strangers at 3am.
Fun fact - Lorde experiences chromesthesia, a phenomenon I wrote at length about
HERE
.
1. Paramore - After Laughter
In September this year, on the Sunday night of Riot Fest, Chicago, I grabbed a $30 bottle of wine from the festival bar and had one of the greatest live experiences of my life. Paramore played a very
After Laughter
heavy set and it was perfect. It was a warm autumn evening, I was wine drunk, surrounded by some of the loveliest people and I sang and danced myself into a stupor. Paramore really do not get enough credit for how good they are as a live band lately and if I happened to see them at their absolute best then I will forever feel truly blessed. Thank you Hayley Williams for making my weekend.
As for
After Laughter
, I can't help falling for the poppy goodness and the 80's goodness. "Hard Times" is the most fun track I've heard all year, while "Rose-Colored Boy" and "Fake Happy" have hooks bigger than your mum. There ain't a song on here I don't love and
After Laughter
fully deserves the crown for best album of 2017.
Thank you for reading!